August 31st, 2023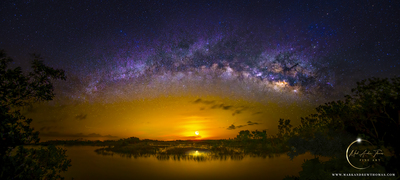 In the pre-dawn hours a crescent moon rises under the sweeping arc of the Milky Way at Big Cypress Swamp in South Florida. This was from back in April and the moon was actually an unexpected surprise, it appeared towards the end of my shoot so I used the last few clicks to get the moon. I was surprised at how much light even a crescent moon puts out, although it did have a lot of help from the gradually lightening sky.

This image is a combination of seven separate exposures photographed using a star tracker. Each exposure was 90 seconds long and then combined using PTGui to form the resulting panorama. I still had my tripod and camera set up so I was able to blend in the exposures of the moon seamlessly. For this image I used a Canon 5d Mark IV along with a Sigma 24mm Art Lens at F/2.2 using ISO 1600. Further editing and color grading were done in Lightroom and Photoshop.
October 3rd, 2019

Getting out under the stars has always been one of my favorite things to do and ever since I became a photographer it has taken on a whole new dimension for me. Observing the Milky Way with the naked eye is a wondrous and awesome experience if you can get far enough away from city lights. Seeing it in my camera viewfinder after a long exposure and seeing the brightness and detail of our galaxy is nothing short of amazing for me. So if you're planning on a trip to South Florida and you love watching the night sky as much as I do then read on to learn about my favorite locations for star gazing and photography.

I'm lucky to live in a place that has a couple of great dark sky locations within a two hour drive or less. The first of these is Big Cypress National Preserve in Ochopee located in Southwest Florida. In 2016 Big Cypress National Preserve was officially recognized as a Dark Sky Place by the International Dark Sky Association. It is the first National Park Service Unit in the United States east of Colorado to earn this distinction and as of this writing, one of only two official Dark Sky Places in Florida with the other being Kissimmee Prairie Preserve State Park in Central Florida. Big Cypress National Preserve is hands down my favorite place to photograph the night sky and just a short 90 minute drive away. It will also have a very special place in my heart since it was the place where I captured my very first successful Milky Way image. When you get out here at night and step out of your car you can see the Milky Way stretching across the sky looking like a faint band of clouds. As your eyes get adjusted to the darkness it becomes more brighter and more visible. Sometimes on clear nights, especially during the cooler winter months of January and February, the Milky Way is even brighter than usual and can be easily seen with the naked eye. On these nights it is simply breathtaking. If you're really lucky, you may even see a Florida Panther while there!

Although not officially designated as a Dark Sky Park, Everglades National Park in Homestead, FL is another great place to view the night sky and Milky Way. I'm not quite sure why ENP has not received the dark sky designation as of yet since it's night skies are almost as dark as Big Cypress. The only reason I can think of is that the lights from nearby Homestead, even though far enough away to not interfere with viewing the stars with the naked eye, do show up as a glow on the horizon during a long exposure. There is also a Visitor Center in the south end of the park near the Flamingo Campground area that keeps their lights on. I would imagine that the deep and hidden recesses of the park have skies just as dark as Big Cypress but I'd have to give the edge to Big Cypress for the darker skies as there aren't as many populated areas nearby. There is virtually no light pollution at Big Cypress and what little there is comes from Miami. Since Big Cypress National Preserve is much further west and away from Miami the light pollution isn't as pronounced as it is in Everglades National Park.

Everglades National Park is still one of my favorite places to view the Milky Way and there are areas, such as the Flamingo Campground area at the southernmost tip of the park (and Florida) that have some of the darkest skies I've ever seen. The best time to view the Milky Way in Everglades National Park is during the summer months from July to September when the Milky Way is visible in the Southwest portion of the sky which means you'd be facing away from the light pollution. Earlier in the year the Milky Way is in the Southeast sky so you'll have a bit more light glow to deal with. I don't want you to get the idea that Everglades National Park doesn't have dark skies…it does!! And then some. It is a great place to view the night sky and Milky Way. One of the best, you just need to know which areas to go to and the deeper and more south you travel into the park the better it gets. Everglades National Park also has plenty of wildlife to see during the day and is also the only place in the world where alligators and crocodiles coexist in the same habitat.

To read the rest of this article and experience it fully with photos and video click on More Information below.